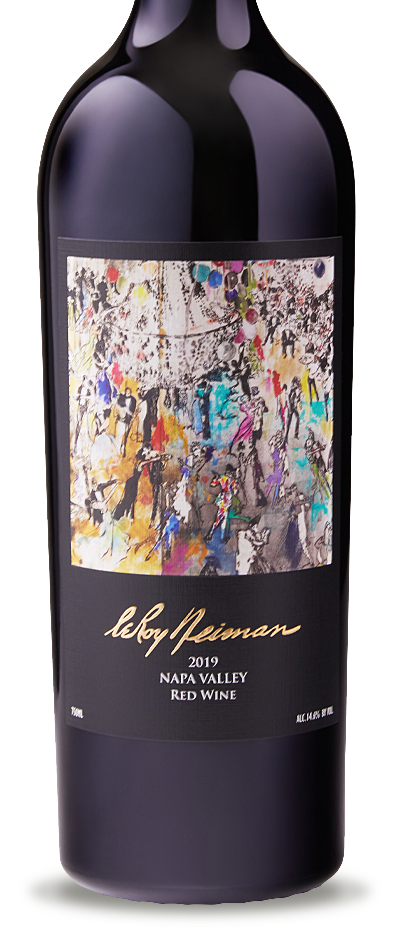 LeRoy Neiman
Limited Edition:
2019 Napa Valley Red Blend featuring LeRoy Neiman
It is our great honor to celebrate the legacy of LeRoy Neiman on his centennial birthday this year. We have teamed up with the LeRoy Neiman Foundation to produce a limited-edition Napa Valley wine paired with an original lithograph. This is an extremely rare offering that will be allocated on a first-in basis to you, our most loyal supporters!
Heidi has masterfully blended Bordeaux varietal lots from our various vineyards in Napa Valley to create LeRoy Neiman Vintage 2019. Each allocation is limited to one six-pack and will be accompanied by a hand-numbered, estate-stamped lithograph (30.5" x 39.5"), produced on Rives paper at our Paris atelier. Only 500 sets will be available. Your lithograph will ship to you this Spring and your wine early Fall.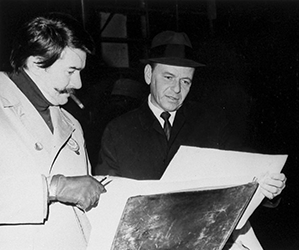 The original and uncirculated monotype, entitled "Dancing to Sinatra", is a tribute to LeRoy's lifelong friendship with the iconic crooner. LeRoy Neiman (1921-2012) was one of America's best known artists, beloved for his expressionistic paintings of the good life. An artist in the mold of French Impressionists, Neiman stressed that the "good life" he lived and depicted was not "affluence and luxury, as such, but joie de vivre itself." This year marks the 100th anniversary of his birth. You can learn more about his life and legacy at www.leroyneimanfoundation.org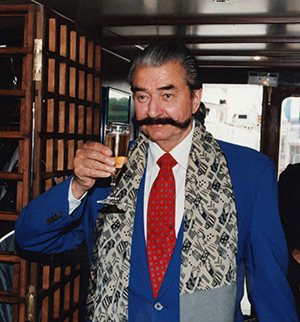 Each allocation (six-pack of wine with lithograph) is priced at $1200 plus applicable tax and shipping. You may return the order form below to Eileen@AmuseBoucheWine.com, fax to (707) 637-8810 or call (707) 251-9300. We produced ten 5.0 liter hand-etched and painted Jeroboams. Please contact Eileen to inquire.