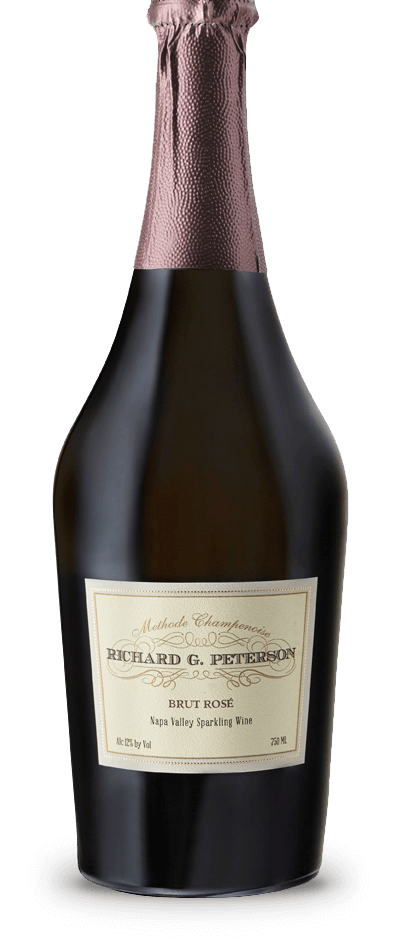 Richard G. Peterson
2016 Richard G. Peterson Brut Rosé
Crafted in the Méthode Champenoise style, the 2016 Richard G. Peterson Brut Rosé is produced from 100% estate grown Pinot Noir from our two-acre parcel in Yountville, Napa Valley. Aged 6 years en tirage, the Richard G. Peterson Brut Rosé is 100% Pinot Noir. The wine oozes bright red fruit flavors, creaminess and aromas of crushed strawberries, toasted brioche and exotic spices supported with fresh acidity. Excellent to enjoy now or cellar for twenty years from vintage date.
Only 310 cases were produced
The Wine
This delicate sparkling wine sets the tone for a wonderful evening of luxury. Its exquisite taste never overwhelms yet prepares the palate with elegance. Made from a Napa Valley Pinot Noir clone which traces its nobility to the finest Pinots of the ancient Romans. All the vines in the vineyard were grown from a single vine growing wild in the village of Wrotham, Kent, England.
The Winemaker
We thought you would enjoy watching this one-minute video of the venerable Dr. Richard G. Peterson (aka Dick P). He discusses our latest release, the 2016 vintage RGP Brut Rosé Méthode Champenoise, produced on the Wrotham clone from his vineyard in Yountville, Napa Valley. Dick recently celebrated his 91st birthday and is one of Napa Valley's last living icons.
Dick Peterson has been an innovator in the California wine industry since the 1960s. As a young man, he produced novel products such as the first wine cooler for Seagrams and Gallo's Hearty Burgundy. He was pivotal to the success of a portfolio of wineries, including Beaulieu Vineyards with Andre Tchelistcheff, the Monterey Vineyard, Atlas Peak Vineyards and Folie à Deux Winery. Dick invented many techniques still in use today, such as the "bung-and-roll," the practice of rolling a barrel to prevent the wood bung from drying. Scientist Peterson proved that winemakers do not need to "top off" barrels of wine, because the space between the wine and the barrel is, in fact, a vacuum rather than air, so the wine cannot oxidize as feared. Perhaps his greatest invention was the steel barrel pallet, which allowed barrels to be stacked higher and more securely. In response to a relatively recent threat to our vineyards, Dick developed the "DP Screw," which delivers antibiotics to vines stricken with Pierce's disease. It's no wonder that Dick Peterson's hero is Ben Franklin: "I've read everything about him!"
We are thrilled to celebrate Dick Peterson's contributions to the California wine industry with this effervescent, limited production project; and we are committed to creating a truly remarkable vintage sparkling wine for years to come.
ACQUIRE
We are releasing the 2016 Richard G. Peterson Brut Rosé (310 cases produced) in six-pack cases ready to ship, weather permitting. Please complete the order form below, email Eileen@AmuseBoucheWine.com, or phone-in at 707-251-9300.
For more information call us at 1-707-251-9300 or email us at info@amusebouchewine.com.
Antonio Galloni
2016 Vintage
"The 2016 Brut Rosé very, very pretty wine. Light bodied and gracious, the 2016 is all class. Bright acids and lively mineral notes run through the 2016. Kirsch, rose petal, mint and white pepper are all finely cut in this wonderfully transparent pure Pinot Noir Brut Rosé from Richard Peterson."
- Antonio Galloni, Vinous, February 2023
Antonio Galloni
2013 Vintage
"The 2013 Brut Rosé Richard G. Peterson Methodé Champenoise is terrific. Rich and dense in feel, the 2013 is one of the more overt editions of this wine I have tasted. All the elements meld together in a beautifully resonant sparkling wine endowed with tons of Pinot character. Richard Peterson has done it again. His Rosé is flat-out delicious, not to mention one of the most compelling sparkling wines made in California."
- Antonio Galloni, Vinous, January 2020
Antonio Galloni
2012 Vintage
"Dick Peterson's 2012 Brut Rosé is fabulous. Creamy and silky on the palate, the 2012 impresses for its textural elegance and overall feel. The flavors are bright, focused and sculpted throughout, with striking inner sweetness and finesse to play off the pliant, generous fruit. The 2012 spent four years on its lees, which is a bit less than the first releases. The shorter aging is probably a benefit, as the 2012 has tremendous fruit presence and even more finesse than the early editions."