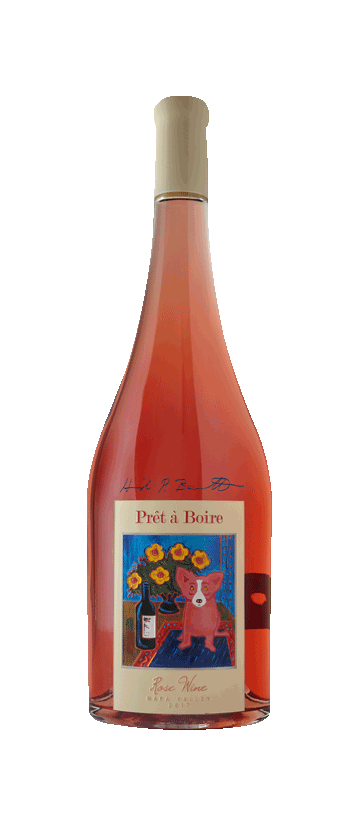 Prêt à Boire
2022 Prêt à Boire Napa Valley Rosé
We are pleased to offer you, loyal devotees of wine à la française, our 2022 Prêt à Boire Napa Valley from our Napa Valley vineyards. The expression prêt à boire (ready to drink) celebrates a wine that you can savor now, in the moment — instant gratification with no need for cellar aging. And to further expedite your enjoyment of this wine, we will include a complimentary pink dog corkscrew with your six-pack
Made in the southern French style, the 2022 Prêt à Boire is composed of 66.5% Grenache and 33.5% Syrah. Pale salmon pink in color, this rosé wine is crisp, dry, and energetic, offering beautiful aromas of potpourri, watermelon rind and raspberry tart.
The Artist
Some of you may not be aware that the world lost George Rodrigue on December 14, 2013. He was 69 years old. George, and his wife Wendy, have been dear friends of ours since 2005 when we initially commissioned George to paint a "blue dog" for our 2006 Amuse Bouche release. A native of Louisiana, George launched his painting career in the 1960s. He was not only a magnificent artist; George was a true community leader, philanthropist and advocate of arts education, inspiring a new generation of artists through the George Rodrigue Foundation of the Arts. Our hearts are heavy with George's absence. We are fortunate to be able to surround ourselves with so many vivid, vibrant reminders of his beautiful, whimsical outlook on life.
Acquire
To reserve your allocation of 2022 Prêt à Boire Napa Valley Rosé, please complete the order form below, email Eileen@AmuseBoucheWine.com, or phone-in at 707-251-9300.
Antonio Galloni
2021 Vintage
"The 2021 Rosé Prêt à Boire is textured, racy and super-expressive. There's a great depth here. This blend of Grenache and Syrah is a serious Rosé, and a delicious wine at that."
- Antonio Galloni, Vinous, February 2023
James Suckling
2021 Vintage
"A rather dense and flavorful rosé with lemon peel, watermelon and hints of light cherries. Medium body. Creamy texture. Fruity finish. More like a light red. Drink now."
- James Suckling, November 2022
Antonio Galloni
2020 Vintage
"Racy, textured and wonderfully inviting, the 2020 Rosé Prêt à Boire is an absolute winner. Readers will find a gorgeous Rosé endowed with notable richness and the acids to balance things out nicely."
- Antonio Galloni, January 2022