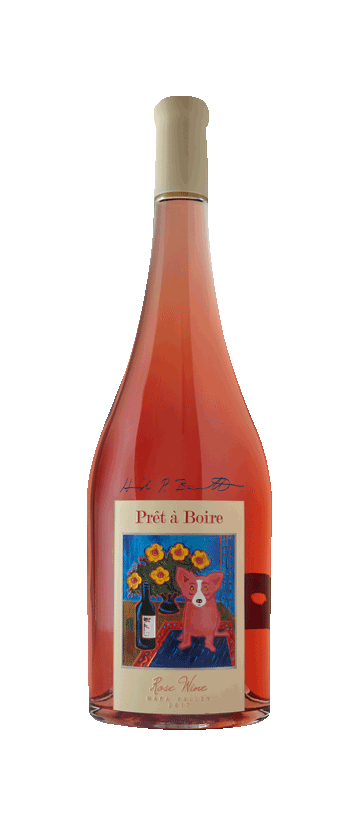 Prêt à Boire
2017 Prêt à Boire Napa Valley Rosé
2017 will be forever known as the fire vintage here in Napa Valley. Although we were unable to pick most of our Bordeaux varietals after Ocotber 8th, due to smoke damage, we were fortunate to have hauled in our Grenache and Syrah in September; allowing us the pleasure to offer you an allocation of Prêt à Boire 2017 Rosé.
The Wine
Prêt à Boire 2017 ("Pret Ah Bwar") is a Southern French-style blend of 63% Grenache and 37% Syrah from our high altitude vineyards in the eastern Rutherford hills of Napa Valley. It is bone dry, crisp with mouthwatering acidity, exuding flavors of crushed fraises de bois, watermelon rind, and white peach. Prêt à Boire remains the only Napa Valley Rosé that garners 90+ ratings by Wine Spectator and Antonio Galloni/Vinous.
The Artist
Some of you may not be aware that the world lost George Rodrigue on December 14, 2013. He was 69 years old. George, and his wife Wendy, have been dear friends of ours since 2005 when we initially commissioned George to paint a "blue dog" for our 2006 Amuse Bouche release. A native of Louisiana, George launched his painting career in the 1960s. He was not only a magnificent artist; George was a true community leader, philanthropist and advocate of arts education, inspiring a new generation of artists through the George Rodrigue Foundation of the Arts. Our hearts are heavy with George's absence. We are fortunate to be able to surround ourselves with so many vivid, vibrant reminders of his beautiful, whimsical outlook on life.
Acquire
We produced only 400 cases of this vintage. With the 2017 vintage, we introduce a special label treatment: a rotating visual! We produced a few dozen 3.0 Liter double magnums, available on a first-in-basis. Each large format is hand-etched and painted with George Rodrigue's Pink Dog (including the dog's back side) and signed by Heidi Barrett.
Please download the order form below to purchase, or contact us at 1-707-251-9300 or email us at info@amusebouchewine.com. We will ship the wine in Fall 2018.
For more information call us at 1-707-251-9300 or email us at info@amusebouchewine.com.
ANTONIO GALLONI
2016 Vintage
"The 2016 Prêt à Boire Rosé is silky, perfumed and gracious, all qualities that make it a good choice for drinking now and over the next year or two. Cranberry, wild flowers and soft, silky curves give the wine its immediacy and overall appeal." - Antonio Galloni, January 2018
WINE SPECTATOR
2016 Vintage
"Floral peach and strawberry aromas pair with supple, spicey and vibrant flavors. Grenache and Syrah. Drink now." - Wine Spectator, June 2017
WINE SPECTATOR
2013 Vintage
"Bursts with aromas of rose petal and raspberry, which leads to delicately complex flavors of cherry, herb and spicy cinnamon, plus lively acidity. Syrah and Grenache. Drink now." - Wine Spectator, November 2014
ANTHONY DIAS BLUE
2011 Vintage
"Lush pink color; bright raspberry nose; silky smooth, dry, juicy and vibrant with raspberry, plum and tangy acidity; balanced, rich and graceful with precise fruit flavors and lovely length; a masterful wine that just happens to be a rosé." - The Tasting Panel, November 2012
"This ready-to-drink rosé refreshes the thirsty palate with flavors of white strawberry, watermelon, raspberry, and freshly cut grass." - Brett Anderson, "Winter Vintages: Our 100 favorite wines for the season", RobbReport Holiday 2012 Host's Guide