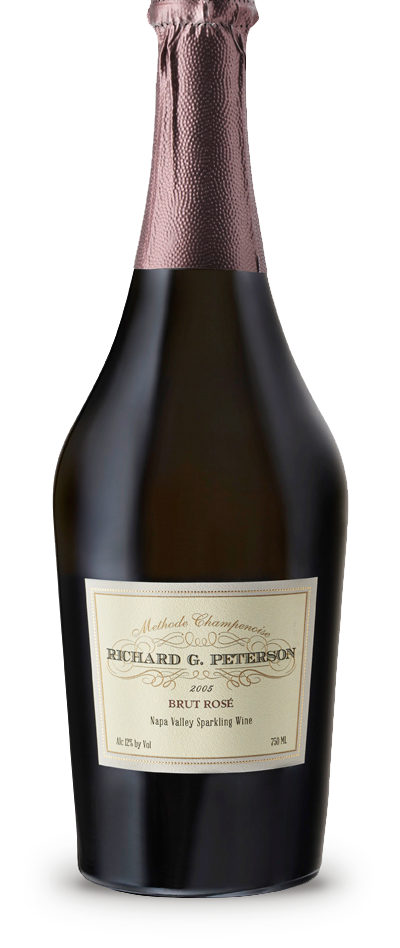 Richard G. Peterson
2005 Richard G. Peterson Brut Rosé
We are pleased to offer you our second vintage of Richard G. Peterson Brut Rosé from our three-acre Pinot Noir Yountville estate. Richard G. Peterson Brut Rosé 2005 is crafted in the Méthode Champenoise style, "7 years on the yeast," by the iconic Dick Peterson. We produced 480 cases, yielded from 11.286 tons, of our 2005 vintage, and we are offering 6 bottles to our most loyal customers. Your confirmed allocation also will give you priority to purchase the subsequent vintage upon release.
The Winemaker
Dick Peterson has been an innovator in the California wine industry since the 1960s. As a young man, he produced novel products such as the first wine cooler for Seagrams and Gallo's Hearty Burgundy. He was pivotal to the success of a portfolio of wineries, including Beaulieu Vineyards with Andre Tchelistcheff, the Monterey Vineyard, Atlas Peak Vineyards and Folie à Deux Winery. Dick invented many techniques still in use today, such as the "bung-and-roll," the practice of rolling a barrel to prevent the wood bung from drying. Scientist Peterson proved that winemakers do not need to "top off" barrels of wine, because the space between the wine and the barrel is, in fact, a vacuum rather than air, so the wine cannot oxidize as feared. Perhaps his greatest invention was the steel barrel pallet, which allowed barrels to be stacked higher and more securely. In response to a relatively recent threat to our vineyards, Dick developed the "DP Screw," which delivers antibiotics to vines stricken with Pierce's disease. It's no wonder that Dick Peterson's hero is Ben Franklin: "I've read everything about him!"
The Wine
The Richard G. Peterson 2005 Brut Rosé, tirage-bottled on May 05, 2005, is ready to enjoy now, and it will age beautifully for years to come. The wine will ship this spring and next fall, in time for all your festive occasions. The price remains $175/bottle. Allocations will be strictly limited to one six-pack per customer and awarded on a first-in basis. Given the small production, we encourage you to secure your bubbles quickly!
Winemaking Details
• Grown on the miniscule (2+ acres) Didly Squat Vineyard, 1120 Darms Lane, about 1.5 miles south of Yountville
• Harvest Date: August 23, 2005
• Total Tons: 11.286 (100% Wrotham Clone of Pinot Noir)
• Rough Yield: 1,425 gallons (126 gallons per ton), reduced to 482 cases by winemaking and case stabilization shrinkage
• Tirage Bottling: Domaine Carneros on May 5, 2006. All bottles were aged for a minimum of 7 years en tirage at 60°F at Upper Valley Barrel Warehouse, Maple Lane, St Helena, CA.
• Production: final disgorging and finishing produced 480 cases
• Final Yield: 1,152 gallons or 102 gallons per ton of grapes
• Total Production Time: 8.5 years
The Wine Advocate
2005 Vintage
"Very pale salmon-pink in color, the 2005 Richard G. Peterson Brut Rosé has a gorgeous nose of fresh raspberries, wild strawberries, Red Delicious apples and white blossoms with underlying nuances of baking bread, shaved almonds and lanolin. The palate is fresh and lively with very fine bubbles, vibrant red berries and a nice mineral tinge, finishing long and toasty." - Robert Parker, The Wine Advocate, October 2018
JAMES SUCKLING
2005 Vintage
"A soft and velvety rosé with light cream and peach character. Medium-to-full bodied and fruity. Brioche finish. Very little of this is made. Drink now." - James Suckling, December 2016
ANTONIO GALLONI
2005 Vintage
"The 2005 Brut Rosé Richard G. Peterson is terrific, and the best version of this wine I have tasted. Ample and creamy on the palate, with gorgeous Pinot resonance, the 2005 delivers striking depth. Crushed rose petals, sweet red berries, flowers and baked apples meld into the voluptuous, inviting finish. This is a fabulous showing from Richard Peterson. This is one of the most stylish sparkling wines I have tasted from California." - Antonio Galloni, Vinous, October 2015