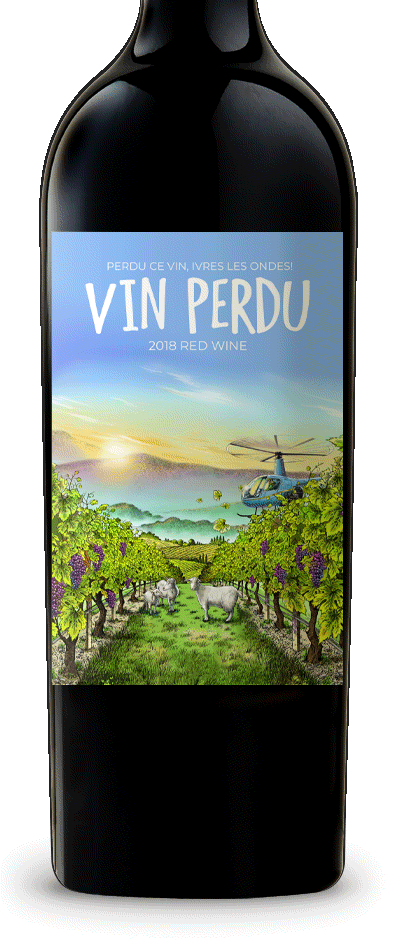 Vin Perdu
2018 Vin Perdu Napa Valley Red Blend
This is your opportunity to secure an allocation of our best value, most mind-altering wine from our Napa Valley estates. Every year the blend changes. The Vin Perdu 2018 is composed of estate grown grapes from the Amuse Bouche, La Sirena and Fantesca properties. For this vintage, Heidi masterfully blended 33% Cabernet Sauvignon with 12% Petit Verdot, 11% Cabernet Franc, 38% Syrah and 6% Merlot. We produced only 850 cases. Each label features our patented flip lenticular label, and our unique storytelling with each new vintage. The 2018 Vin Perdu label features your esteemed winemaker, Heidi Barrett, lifting off from our vineyards — and taking the wine with her! If you do not get your hands on this wine now, it will be long gone; your eternal "lost wine"!
Acquire
Vin Perdu 2018 allocations are by the six pack, and we've maintained the price of $95/bottle. To order, please contact Eileen@AmuseBoucheWine.com, or complete the attached order form. We also produced 50 five-liter Jeroboams, hand signed by Heidi and available on a first-in basis to our most loyal customers who just cannot resist the visual and gustatory sensations of this finished product.
Nothing beats our hospitality. The next time you visit Napa Valley, contact Naomi at Naomi@AmuseBoucheWine.com to schedule a personal tasting experience.
We encourage you to secure your allocations quickly. Thank you for your continued love and support of the wines we are so passionate about.
For more information call us at 1-707-251-9300 or email us at info@amusebouchewine.com.
The Wine Advocate
2018 Vintage
"The 2018 Vin Perdu is a blend of 38% Syrah, 33% Cabernet Sauvignon, 12% Petit Verdot, 11% Cabernet Franc and 6% Merlot. Deep garnet-purple in color, it comes skipping out of the glass with bright, cheery notes of baked black cherries, plum preserves and blueberry pie with an undercurrent of freshly cracked black pepper, bacon and underbrush with fragrant wafts of licorice and violets. Full-bodied, rich and oh-so-seductive in the mouth, the palate reveals amazingly velvety tannins and tons of freshness, finishing with epic length and many, many layers. Delicious!"
- The Wine Advocate/Robert Parker, November 2020
Antonio Galloni
2018 Vintage
"The 2018 Vin Perdu from Amuse Bouche is fabulous. Juicy and wonderfully expressive, the 2018 packs a serious punch while remaining very much medium in body, in the style of these wines. Succulent black cherry, plum, chocolate, lavender, spice and leather are front and center. The 2018 is a joyous, inviting red to drink over the next handful of years."
- Antonio Galloni, Vinous, January 2021