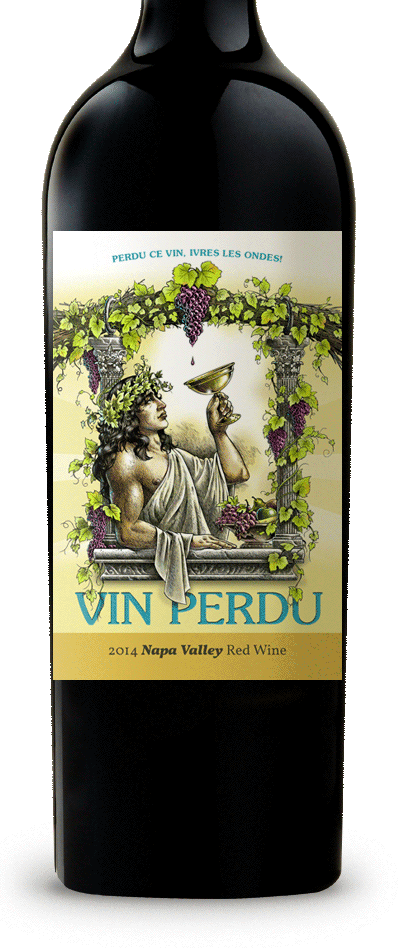 Vin Perdu
2014 Vin Perdu Napa Valley Red Blend
The Wine
We are proud and excited to offer our most loyal customers an allocation of 2014 Vin Perdu. Once again, Heidi has masterfully blended small lots from some of our finest vineyard blocks on the eastern side of Napa Valley, delivering an incredible array of aromas and flavors. Vin Perdu 2014 is composed of 68% Cabernet Sauvignon, 25% Cabernet Franc, 4% Merlot and 3% Petit Verdot from the Amuse Bouche, Au Sommet, La Sirena, Lamborn and Fantesca estates. Each Jeroboam features the patented flip lenticular label, and the new, Bacchanalian, art for this vintage.
We do the "little things" right by producing just a small (125 jerobaums) amount of the 2014 Vin Perdu. We all have great fun with this wine: the uber-qualified Heidi Barrett showcases her masterful blending skills using incredible components from some of Napa Valley's top vineyards; our creative team brings the label art to life; and you, our most loyal customers, revel in the visual and gustatory finished product.
We've maintained the remarkable price of $950 per jerobaums and $450 per six-pack allocation, qualifying Vin Perdu 2014 as Heidi Barrett's best bargain wine! Allocations are on a first-in basis, and often sell out quickly, so don't delay, or yours could be lost forever!
Acquire
Our "lost wine" is the best value wine Heidi produces, and it will disappear quickly. We know the 2014 Vin Perdu will be a spinning addition to your collection, so be sure to secure your allocation before all bets are off!
We will ship the 2014 Vin Perdu in Fall, weather permitting.
For more information call us at 1-707-251-9300 or email us at info@amusebouchewine.com.
JAMES SUCKLING
2014 Vintage
"I like the tension and chewiness to this young cabernet with blackberries, licorice and stones. Medium to full body, firm tannins and a fresh finish. So balanced. Drink in 2018." - James Suckling, December 2016
JAMES SUCKLING
2013 Vintage
"The denisty and beauty to this are beautiful with a medium to full body, firm and soft tannins and racy finish. Drink or hold." - James Suckling, December 2016
ROBERT PARKER
2013 Vintage
"With a colorful label, the 2013 Proprietary Red Blend Vin Perdu is a blend of 69% Cabernet Sauvignon and the rest Merlot, Syrah, Petit Verdot and Cabernet Franc. The wine shows rich, saddle-leather-infused coffee and chocolaty blackberry fruit and plenty of robust, bordering on rustic flavors. This is a pedal-to-the-metal, fun wine and very well-made; a big, substantial mouthful of wine that should drink nicely for another 7-8 years." - Wine Advocate #222, December 2015
ANTONIO GALLONI
2013 Vintage
"The 2013 Vin Perdu is dark, bold and juicy, with plenty of mocha, dark chocolate, grilled herbs, menthol and blackberry jam nuances. Flashy and overt, the 2013 is a terrific choice for drinking over the next handful of years. The presence of Syrah, Merlot and Petite Sirah in the blend gives the 2013 distinctly dark-leaning tonalities of fruit. The Vin Perdu or 'lost wine' is a blend of lots from several projects overseen by winemaker Heidi Barrett." - Vinous, October 2015