Amuse Bouche
2019 Napa Valley Red Wine Blend
It is with great honor and excitement that we offer you the 2019 vintage of Amuse Bouche, featuring artwork by one the most prominent artists of our time. To showcase the brilliance of Françoise Gilot, we have produced custom, one-of-a kind wood boxes in lieu of lithographs this vintage. Her art has been carefully painted on the box lids which, once removed, can be either vertically displayed on the wine box or on your walls. These boxes are showstoppers. Amuse Bouche 2019 crafted in the Pomerol-style, is a blend of 92% Merlot and 8% Cabernet Franc from our vineyards in the east Rutherford Hills of Napa Valley.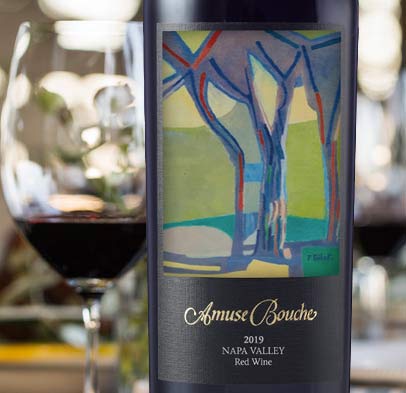 Napa Valley Wine Luxury Napa Valley Wines
Collectible wine and collectible art come together to create Amuse Bouche Napa Valley Red Blend, a joint wine venture with Heidi Barrett and John Schwartz. This Pomerol-style Merlot/Cabernet Franc blend is made from some of the best grape sources in the Napa Valley. Amuse Bouche wine aspires to rival its greatest cross-Atlantic counterparts, such as Chateau Petrus and Chateau Le Pin.
As winemaker for several of the hottest cult wines in California, and referred to by TIME magazine as "The Wine Diva of Napa", Heidi Barrett is always looking for new challenges. Heidi explains, "We have created Amuse Bouche wine, a limited edition, superb Pomerol style wine with the added value of limited edition art that is available to consumers through a variety of channels."