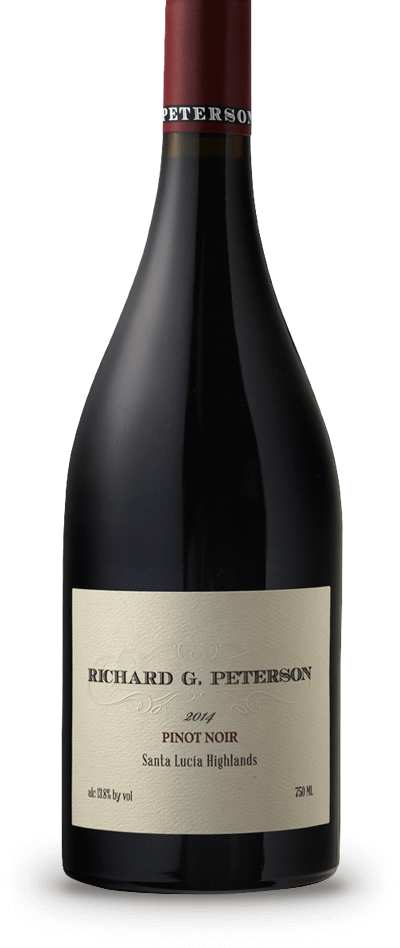 Richard G. Peterson
2014 Richard G. Peterson Pinot Noir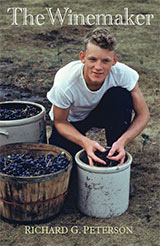 We are pleased to announce the release of our 2nd vintage of Richard G. Peterson 2014 Pinot Noir! Legendary winemaker, Dick Peterson, handcrafted this true, old-world style pinot from his vineyards in the Santa Lucia Highlands AVA situated just south of Monterey Bay.
Winemaking
Santa Lucia Highlands AVA
It is here that Dick planted his vineyard with a footprint unlike any other. Boasting a cool climate and one of the longest growing seasons in California, the Richard G. Peterson property cultivates two distinct clones - Wrotham and R-4.
The Wrotham Clone
Discovered near Wrotham Village in southeast England; the cuttings were introduced there by the Romans some 2000 years ago. The Wrotham clone produces a uniquely rich color and a spicy characteristic not often found in other Pinot Noir wines. In 1980, Dick Peterson brought the first and only Wrotham cuttings back to California and planted them on his 10-acre property.
The Wine
The Richard G. Peterson 2014 Pinot Noir is elegant in its Burgundian style and offers an energetic profile on the palate with an array of earthy notes and minerality. Flavors of black currants, cardamom, sautéed porcini mushrooms and smoked game meat complement the wine's uniqueness. This Pinot Noir will be ready to drink upon release and will continue to age beautifully over the next 25 years.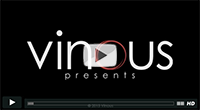 A Conversation with Richard G. Peterson
"About a year ago, Peterson's publisher contacted me and asked if I would write the back flap for Peterson's book, "The Winemaker". I had never met Peterson, but his publisher started sending me chapters to read and I was totally engrossed. I think you will find his story compelling on many levels."
- Antonio Galloni, Vinous, November 2015
JAMES SUCKLING
2014 VINTAGE
"A big and rich style with soft and velvety tannins. Lots of dried-berry and chocolate character. Delicious finish. Drink now." - James Suckling, December 2016
"Peterson's 50-plus years in the wine industry have created a rich legacy from a time when people were drawn to the wine industry by intelligence, creativity, and inspiration – a challenge to see how things could be made better, done better." -
Napa Valley Register
, August 2015 (
view article
)