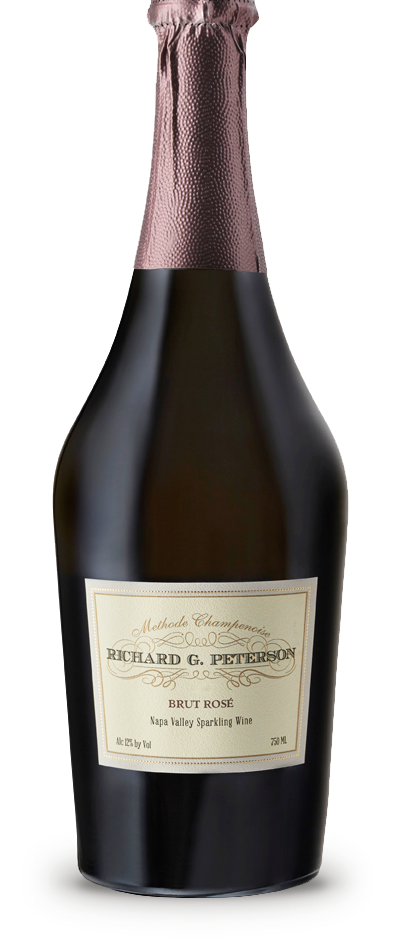 Richard G. Peterson
2004 Richard G. Peterson Brut Rosé
Nearly a decade ago, we began to incubate a dream, to craft our vision of what will become the most lauded sparkling wine produced in the Napa Valley. Today, we present to you our Richard G. Peterson 2004 Brut Rosé, produced in the Méthode Champenoise style, aged 7 years on the yeast en triage prior to disgorging. The artist: the iconic Dick Peterson. (Yes... father to Heidi Peterson Barrett.). The source: 100% Pinot Noir planted in 1995 on the Dick Peterson estate in Yountville in the heart of Napa Valley.
The Winemaker
Dick Peterson has been an innovator in the California wine industry since the 1960s. As a young man, he produced novel products such as the first wine cooler for Seagrams and Gallo's Hearty Burgundy. He was pivotal to the success of a portfolio of wineries, including Beaulieu Vineyards with Andre Tchelistcheff, the Monterey Vineyard, Atlas Peak Vineyards and Folie à Deux Winery. Dick invented many techniques still in use today, such as the "bung-and-roll," the practice of rolling a barrel to prevent the wood bung from drying. Scientist Peterson proved that winemakers do not need to "top off" barrels of wine, because the space between the wine and the barrel is, in fact, a vacuum rather than air, so the wine cannot oxidize as feared. Perhaps his greatest invention was the steel barrel pallet, which allowed barrels to be stacked higher and more securely. In response to a relatively recent threat to our vineyards, Dick developed the "DP Screw," which delivers antibiotics to vines stricken with Pierce's disease. It's no wonder that Dick Peterson's hero is Ben Franklin: "I've read everything about him!"
The Wine
The Richard G. Peterson 2004 Brut Rosé is crisp, dry with firm acidity, boasting flavors of citrus, strawberries, brioche toast and a hint of cardamom spice. It is ready to enjoy now or to cellar for twenty years from vintage date. The wine is $175 per bottle and will ship this February, just in time for Valentine's Day and other festive occasions. Allocations will be strictly limited to one six-pack per customer and awarded on a first-in basis.
We have produced 242 cases of our Brut Rosé.
WINE SPECTATOR
2004 Vintage
"Makes a bold statement, with floral strawberry and almond brioche aromas, offering full-bodied yet balanced citrus, graham cracker and cinnamon flavors. Drink now." - Wine Spectator, October 2013
WINE ENTHUSIAST
2004 Vintage
"Cellar Selection. Legendary vintner Dick Peterson made this rosé from 100% Pinot Noir grown at his vineyard in Yountville. It's light, crisp and elegant, with intricately layered flavors of strawberries, raspberries, yeast, brioche and vanilla. The mousse is very fine, the finish long and complex. Even at the age of nine years, it's nowhere near ready. Try after 2019." - Wine Enthusiast, September 2013
SF CHRONICLE
2004 Vintage
"The 242 cases of the 2004 Richard G. Peterson Brut Rosé are a modest tribute to Peterson's talents and long interest in sparkling wine. The wine's orange-ice and wild strawberry character is underscored by a presence of tannin that reminds you this is still very much Pinot Noir, just in a different form." - Jon Bonné,
San Francisco Chronicle Inside Scoop
, September 2013 (
view article
)
"Peterson is the artist behind some of Napa's most brilliant wines. His latest creation, Richard G. Peterson 2004 Brut Rosé, offers liquid testimony to his mastery of the craft. Its delicate copper color and silky folds of flavor - marzipan, wild strawberry, mandarin orange, fleur de sel, and smoke - recall the complexity of such remarkable achievements as the Dom Pérignon 2000 Rosé and the Krug 1995 Clos d'Ambonnay." -
Robb Report
, August 2013
Download PDF
CHASING PANGEA
2004 Vintage
"The first remarkable aspect of the wine is its beautiful peach-salmon color and fine string of beads. The aromas are also striking, reminiscent of a composed dish...a wonderful balance of fruity, bready, and earthy tones, compelling sip after sip. On the palate, the wine continues to impress with soft, mousse-like bubbles gently coating the mouth before a pleasant dry finish. Ample acidity and 12% ABV create a spectacular wine." - Chasing Pangea blog, August 2013
TASTING PANEL
2004 Vintage
"Pale pink; rich and complex with deep, yeasty, toasty style; strawberry, raspberry and citrus notes; dense and showing spice and layers of flavor as well as seven years of lees aging; long, lush and juicy; made by superstar winemaker Dick Peterson, Heidi Barrett's father." - Tasting Panel Magazine, July 2013