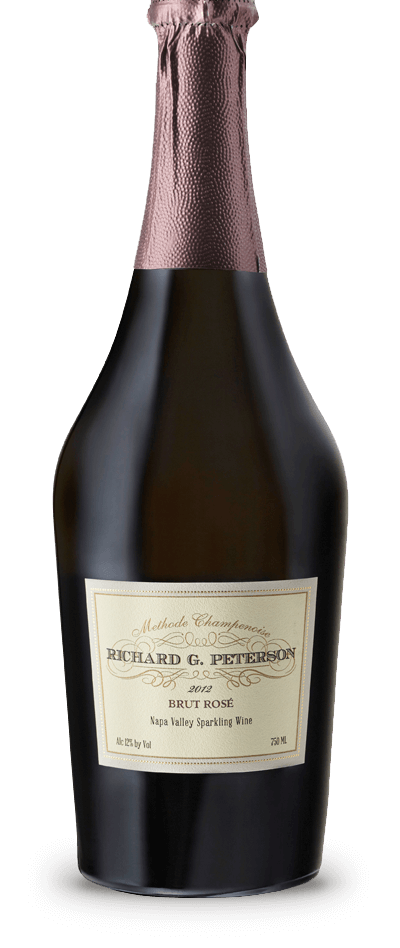 Richard G. Peterson
2012 Richard G. Peterson Brut Rosé
Crafted in the Méthode Champenoise style, the RGP 2012 Brut Rosé hails from Dick's three-acre estate in Yountville and was aged 4 years en tirage. This wine oozes flavors of toasted brioche and crushed strawberries, and it even exudes graham cracker aromas. The mousse is very fine, offering a long and complex finish with great backbone acidity.
The Winemaker
Dick Peterson has been an innovator in the California wine industry since the 1960s. As a young man, he produced novel products such as the first wine cooler for Seagrams and Gallo's Hearty Burgundy. He was pivotal to the success of a portfolio of wineries, including Beaulieu Vineyards with Andre Tchelistcheff, the Monterey Vineyard, Atlas Peak Vineyards and Folie à Deux Winery. Dick invented many techniques still in use today, such as the "bung-and-roll," the practice of rolling a barrel to prevent the wood bung from drying. Scientist Peterson proved that winemakers do not need to "top off" barrels of wine, because the space between the wine and the barrel is, in fact, a vacuum rather than air, so the wine cannot oxidize as feared. Perhaps his greatest invention was the steel barrel pallet, which allowed barrels to be stacked higher and more securely. In response to a relatively recent threat to our vineyards, Dick developed the "DP Screw," which delivers antibiotics to vines stricken with Pierce's disease. It's no wonder that Dick Peterson's hero is Ben Franklin: "I've read everything about him!"
Acquire
The Richard G. Peterson 2012 Brut Rosé will age beautifully for years to come. The price remains $750 per six bottle case. Allocations will be strictly limited to one six-pack per customer and awarded on a first-in basis. Given the small production, we encourage you to secure your bubbles quickly!
To reserve your allocation of Richard G. Peterson 2012 Brut Rosé please call 707-251-9300 or download and complete the below order form to secure your wine.
For more information call us at 1-707-251-9300 or email us at info@amusebouchewine.com.
Antonio Galloni
January 2018
"Dick Peterson's 2012 Brut Rosé is fabulous. Creamy and silky on the palate, the 2012 impresses for its textural elegance and overall feel. The flavors are bright, focused and sculpted throughout, with striking inner sweetness and finesse to play off the pliant, generous fruit. The 2012 spent four years on its lees, which is a bit less than the first releases. The shorter aging is probably a benefit, as the 2012 has tremendous fruit presence and even more finesse than the early editions."
Antonio Galloni
July 2018
"The 2013 Brut Rosé Richard G. Peterson is deep, powerful and resonant in the glass, with terrific palate presence and richness. In this vintage, the Brut Rosé is distinctly Pinot-driven in both its flavors and textures. White pepper, chalk and generous red berry overtones fill out the wine's ample frame nicely. This is another superb showing from Dick Peterson, one of the true innovators in the California wine industry."
James Suckling
December 12, 2016
"A soft and velvety rosé with light cream and peach character. Full-bodied and fruity. Very little of this is made. Drink now.