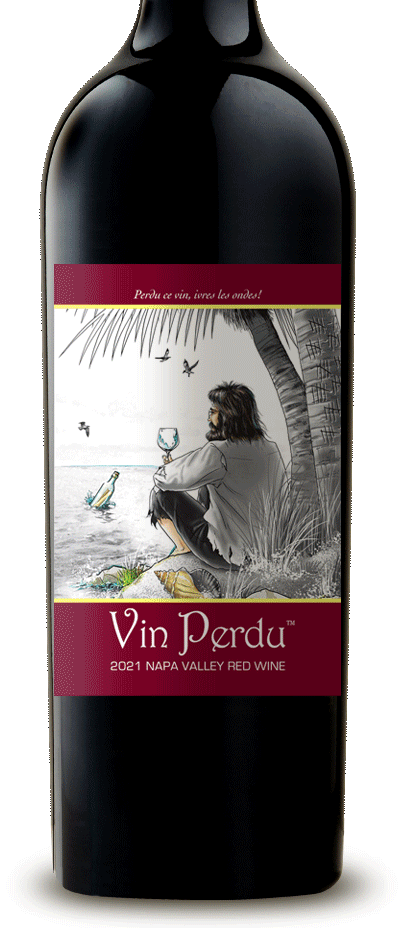 Vin Perdu
2021 Vin Perdu Napa Valley Red Blend
We've all asked ourselves the proverbial question: If I were stranded on an island with only one bottle of wine, what bottle would that be
This age-old and daunting conundrum inspired this year's label. You will find that the label not only tackles the question (man stranded, what to drink) but… with a mere twist of the wrist — or a quick flip of the lenticular image — it also poses a solution: drink more wine while the going is good! Why wait for the cliche stranding, the next climate event, economic upheaval? We produce Vin Perdu, our "lost wine," with the philosophy that no good wine should be wasted, and we all should seize every moment lest we lose them forever.
After a two-year hiatus due to the smoke-tainted vintage in 2020, we are pleased to offer you an allocation of Vin Perdu 2021 Napa Valley Red Blend. This wine sells out quickly due to its deliciously complex contents, great-value price point and one-of-kind label.
Heidi's Vin Perdu 2021 blend consists of 67.4% Cabernet Sauvignon, 17.7% Syrah and 14.9% Cabernet Franc from our Napa Valley vineyards. This vintage yielded close to 700 cases.
Allocations of Vin Perdu 2021 are available by six pack at $95/bottle. You will notice five-liter Jeroboams on the order form. We produced a small quantity of these large formats, signed by Heidi, and they are available on a first-in basis.
To order, please complete the attached order form and return by email to Eileen@AmuseBoucheWIne.com, fax (707-637-8810) or by mail.
Antonio Galloni
2019 Vintage
"The Vin Perdu is once again fabulous in 2019. Sweet tobacco, cedar, licorice, spice, leather and menthol lend notable aromatic complexity and nuance. This mid-weight, flavorful Cabernet Sauvignon-based blend hits all the right notes. It's an absolute joy to taste, not to mention a very serious second wine."
- Antonio Galloni, January 2022
James Suckling
2019 Vintage
"A red with bright purple fruit and crushed stones. Flowers and some chili spice, too. Full-bodied with creamy, chewy tannins and a long, fresh finish. So tasty now. Lovely depth. 42.3% cabernet sauvignon, 33.1% petit verdot, 16.9% merlot, 6.2% malbec and 1.5% petite sirah. Drink now."
- James Suckling, November 2021