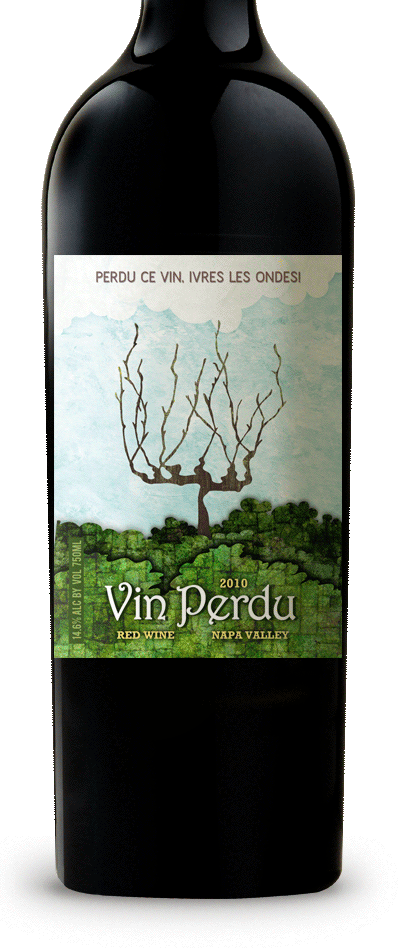 Vin Perdu
2010 Vin Perdu Napa Valley Red Wine
All is not lost when the bread goes stale...The proof is in the pain perdu created by my dear friend and culinary mentor, Jacques Pepin. While working as a breakfast chef at the celebrated Plaza Athenee in Paris in the 1950s, Jacques accidentally dipped his crusty baguette in a tub of melted vanilla ice cream rather than the usual egg batter he was aiming for. Undaunted, or perhaps in a bit of a rush, he went ahead and fried the vanilla bread with butter and sugar...Et voila: a signature dish was born. (Jacques recently reminded me that the secret to perfect pain perdu is to use truly stale bread so it doesn't absorb too much of the batter mixture and lose its shape. The batter should be only a coating.)
The Wine
Once again, Heidi has masterfully blended small lots from some of our finest vineyard blocks to deliver an incredible array of mind-altering aromas and flavors.
The composition of the 2010 Vin Perdu is 75% Cabernet Sauvignon, 18% Syrah, 2% Petit Verdot, 2% Petit Sirah, 2% Cabernet Franc and 1% Merlot from the Amuse Bouche, La Sirena, Au Sommet and Lamborn estates. Because the percentages of the Vin Perdu components vary from year to year, each vintage is truly unique.
The 2010 artwork is enhanced by our one-of-a-kind flip lenticular labels using multiple lenses to showcase the moving visual images.
ROBERT PARKER
2010 Vintage
"Lovely floral, blueberry and black fruit aromatics jumps from the glass of this dark purple-colored wine. Firmly structured with plenty of tannin, it possesses a nice underbelly of flesh that comes across as pure, full-bodied, and complex after additional bottle age. There appears to be a lot going on with this cuvee and should last 15+ years." - Wine Advocate, October 2013
ANTONIO GALLONI
2010 Vintage
"The 2010 Vin Perdu is gorgeous. Plums, black currants, grilled herbs, tar and licorice are some of the many notes that burst from the glass in this full-bodied, intense wine. A dark, rich, voluptuous red, the 2010 Vin Perdu shows Heidi Barrett at her best. Hints of menthol, tar, licorice and pencil shavings are layered into the powerful, inviting finish. The 2010 is loaded with serious depth and power. In 2010 the blend is 75% Cabernet Sauvignon, 18% Syrah, 2% Petit Verdot, 2% Petit Sirah, 2% Cabernet Franc and 1% Merlot. Anticipated maturity: 2013-2020." - Wine Advocate, December 2012 #204
BRETT ANDERSON
2010 Vintage
"Heidi Barrett's unusual blend of Cabernet Sauvignon, Syrah, Petit Verdot, Petite Sirah, Cabernet Franc, and Merlot takes the taste buds on the wildest roller-coaster rides, presenting alternating flavors of red currant, plum, berry, grapefruit, curry, and pepper, to name but a few." - "Winter Vintages: Our 100 favorite wines for the season", RobbReport Holiday 2012 Host's Guide