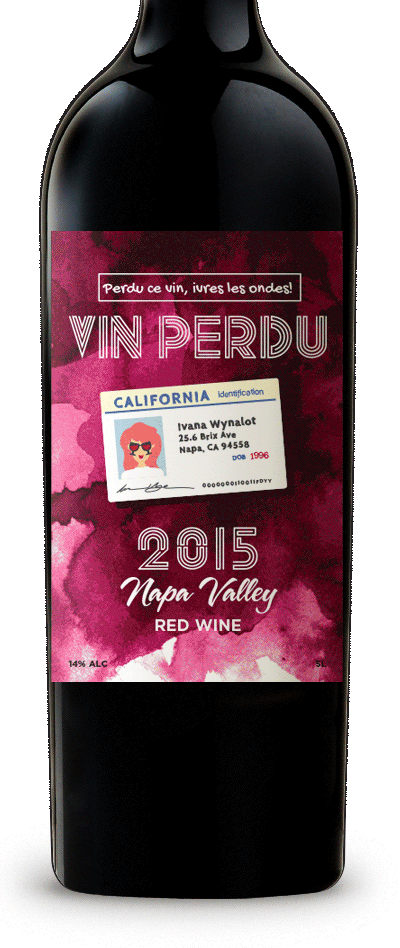 Vin Perdu
2015 Vin Perdu Napa Valley Red Blend
The Wine
We are proud and excited to about our 2015 Vin Perdu. Once again, Heidi has masterfully blended small lots from some of our finest vineyard blocks on the eastern side of Napa Valley, delivering an incredible array of aromas and flavors. Every year the blend changes and this year's wine is no exception. Vin Perdu 2015 is composed of 46% Cabernet Franc, 23% Petit Verdot, 18% Cabernet Sauvignon and 13% Merlot from the Amuse Bouche, Fantesca, La Sirena and Au Sommet estates. 
Each wine label features our patented flip lenticular label, and our unique storytelling with each new vintage. The creative design for Vin Perdu 2015 was devised after catching my son with a fake ID and how ones date of birth dictates whether or not you are of legal age to drink...if under-aged, it is Lost Wine!
We do the "little things" right by producing just a small amount of the 2015 Vin Perdu. We all have great fun with this wine: the uber-qualified Heidi Barrett showcases her masterful blending skills using incredible components from some of Napa Valley's top vineyards; our creative team brings the label art to life; and you, our most loyal customers, revel in the visual and gustatory finished product.
James Suckling
2015 Vintage
"There's a real sense of peppermint on the nose here as well as freshly picked blackcurrants, herbs and cedar. The refinement is so impressive with velvety, flowing tannins, vibrant acidity and a long finish that just oozes minerality. Tight and needs time still. Drink from 2020."
- James Suckling, December 2017
Wine Advocate
2015 Vintage
"Blended of 46% Cabernet Franc, 23% Petit Verdot, 18% Cabernet Sauvignon and 13% Merlot, the medium to deep garnet-purple colored 2015 Vin Perdu has a nose of red currant jelly and blueberry compote with cinnamon stick, herbs and lavender plus pencil shavings and tobacco hints. Medium to full-bodied with firm, chewy tannins and good concentration, it offers up earth and mineral notions in the mouth, and there's a compelling herbal lift to the finish."
- Wine Advocate, December 2017