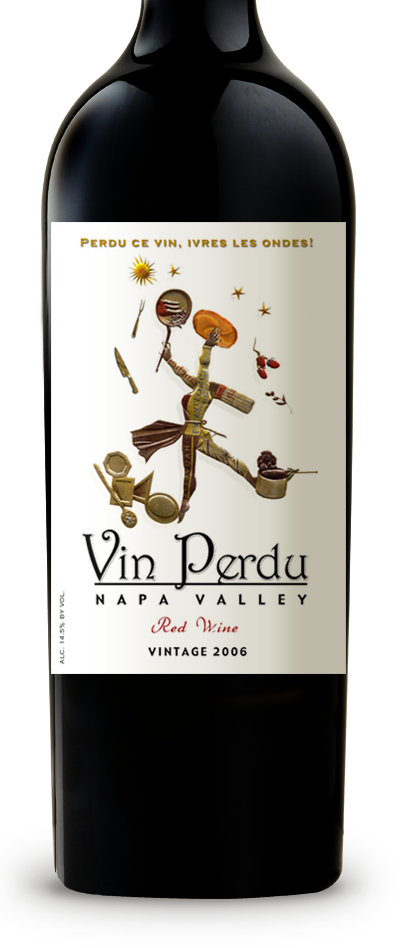 Vin Perdu
2006 Vin Perdu Napa Valley Red Wine
All is not lost when the bread goes stale... The proof is in the pain perdu created by my dear friend and culinary mentor, Jacques Pepin. While working as a breakfast chef at the celebrated Plaza Athenee in Paris in the 1950s, Jacques accidentally dipped his crusty baguette in a tub of melted vanilla ice cream rather than the usual egg batter he was aiming for. Undaunted, or perhaps in a bit of a rush, he went ahead and fried the vanilla bread with butter and sugar...Et voila: a signature dish was born. (Jacques recently reminded me that the secret to perfect pain perdu is to use truly stale bread so it doesn't absorb too much of the batter mixture and lose its shape. The batter should be only a coating.)
The Wine
Heidi Barrett continues to work her own magic with "leftovers" of a different variety: namely, the exceptional remnants from our wines at Amuse Bouche, Barbour and La Sirena wineries. We are proud to offer you le resultat: our 2006 Vin Perdu, a luscious blend of Cabernet Sauvignon, Merlot, Cabernet Franc and Petit Verdot from our Napa Valley Vineyards.
Because the quantity and composition of the "ingredients" vary from year to year, each vintage of Vin Perdu is unique -- crafted "from scratch" by Heidi, who endows every 5L jerobaum with her signature. The 2006 label features new artwork (the animated chef) and our one-of-a-kind flip lenticular paper that showcases moving visual images.
WINE ENTHUSIAST
2006 Vintage
Cellar Selection. Wine Enthusiast.