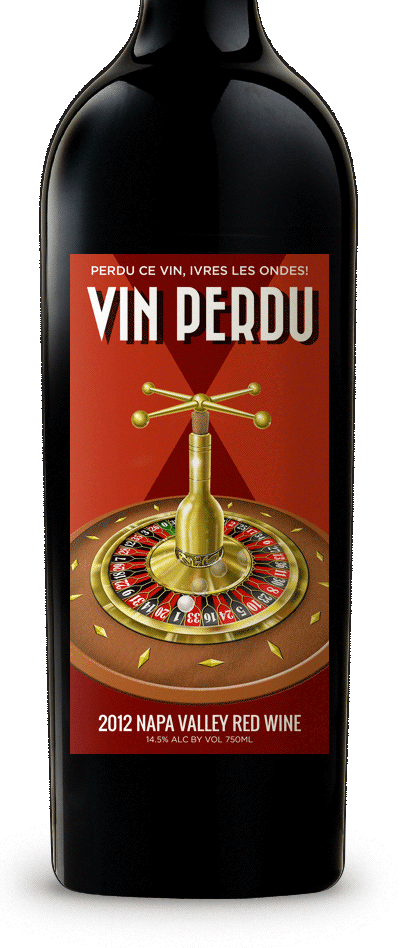 Vin Perdu
2012 Vin Perdu Napa Valley Red Wine
On a steamy night in Monte Carlo, red and black flash by in a tantalizing blur. The Roulette dealer waves an imperious hand over the table and proclaims, "Rien ne va plus!" (Loosely translated: "No more bets!"). The ball clatters around the wheel on its final round before dropping into red slot number 18.
This rather lucrative moment in Monaco inspired the label for our 2012 Vin Perdu. If we, again loosely, translate the French phrase above to "all bets are off," it perfectly describes this vintage -- a show stopper resulting from a magical growing season in Napa Valley.
The Wine
We are proud and excited to offer our most loyal customers an allocation of 2012 Vin Perdu. Once again, Heidi has masterfully blended small lots from some of our finest vineyard blocks on the eastern side of Napa Valley, delivering an incredible array of aromas and flavors. The composition of 2012 Vin Perdu is 42.1% Cabernet Sauvignon, 14.3% Syrah, 22.3% Merlot, 3% Petit Syrah, 7.4% Petit Verdot, and 10.9% Cabernet Franc from the Amuse Bouche, La Sirena and Lamborn Estates. Because the percentages of the Vin Perdu components vary from year to year, each vintage is truly unique.
In Vin Perdu tradition, the 2012 label is enhanced by our one-of-a-kind flip lenticular artwork, which employs multiple lenses to showcase the visual images of a roulette wheel in motion.
ROBERT PARKER
2012 Vintage
"The 2012 Proprietory Red Blend Vin Perdu is a creative blend of Cabernet Sauvignon, Syrah, Merlot, Cabernet Franc and Petite Verdot. Floral, peppery, spicy, meaty notes, good acidity and attractive freshness and purity are hallmarks of wine consultant/winemaker Heidi Barrett. This cuvée has the most potential complexity of this trio, but like its siblings, it is still youthful, holding much of its charm and character in reserve. Nevertheless, the dense ruby/purple color and the beautiful fruit that can be coazed out suggest a medium to full-bodied red that should hit its peak in 4-5 years and last 15 or more years." - Wine Advocate, October 2014