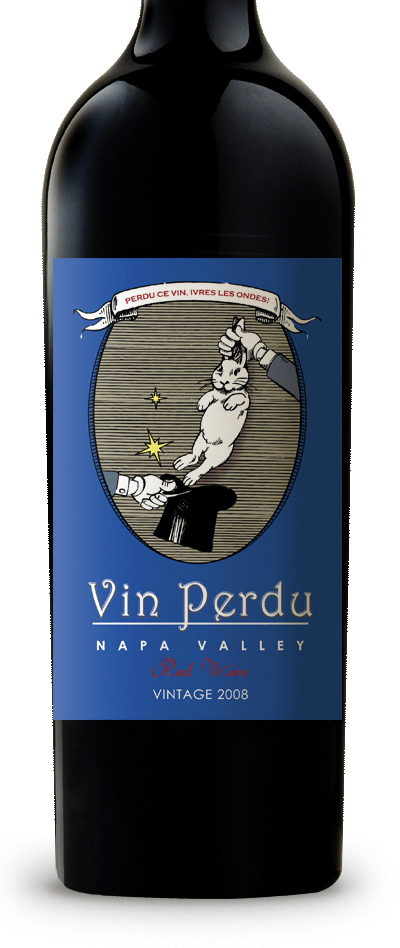 Vin Perdu
2008 Vin Perdu Napa Valley Red Wine
All is not lost when the bread goes stale...The proof is in the pain perdu created by my dear friend and culinary mentor, Jacques Pepin. While working as a breakfast chef at the celebrated Plaza Athenee in Paris in the 1950s, Jacques accidentally dipped his crusty baguette in a tub of melted vanilla ice cream rather than the usual egg batter he was aiming for. Undaunted, or perhaps in a bit of a rush, he went ahead and fried the vanilla bread with butter and sugar...Et voila: a signature dish was born. (Jacques recently reminded me that the secret to perfect pain perdu is to use truly stale bread so it doesn't absorb too much of the batter mixture and lose its shape. The batter should be only a coating.)
The Wine
We are pleased to offer our fourth release of Vin Perdu with the 2008 vintage. Once again, Heidi has masterfully blended small lots from some of our finest vineyard blocks to deliver a "magical" wine, primed to bring you five liters of mind-altering bliss and suspense.
Ahhh!!!....the 2008 vintage. This was a challenging vintage throughout the Napa Valley due to unseasonal and untimely weather conditions. Yet Heidi has managed to pull a rabbit out of the hat with this one - literally and figuratively.
The composition of Vin Perdu 2008 is derived from seven different lots from our Amuse Bouche, La Sirena, Barbour, Revana and Au Sommet vineyards. This year's blend is Petit Verdot dominated (44%) with 39% Syrah, 9% Cabernet Sauvignon and 8% Cabernet Franc.
The 2008 artwork (the rabbit pops out of the wine bottle label and comes to life!) is enhanced by the use of our one-of-a-kind flip lenticular labels, using lenses to showcase moving visual images.
WINE ENTHUSIAST
2008 Vintage
"Cellar Selection. Extraordinarily rich and ripe, this unique Cabernet-based blend contains 30% Syrah. It's a dramatic wine, marked by a near-perfect tannin structure and massive, longlasting flavors of blackberries, black currants, chocolate, licorice, candied violets, sweet leather, peppery spices and smoky sandalwood. Marked by youthful primary fruit now, it needs time to knit together. Give it until after 2012 to come around, and should develop for many years after." - S.H., Wine Enthusiast Magazine, February 2010
STEPHEN TANZER
2008 Vintage
"Full red-ruby. High-toned aromas of currant, spicecake, mocha and licorice, with hints of pepper and herbs. Supple, dense and sweet, with bright acids and a peppery element lifting the currant and mocha flavors. A note of oaky torrefaction gives the firmly tannic finish a faint bitter edge, but this finishes with good energy and persistence." - Stephen Tanzer's International Wine Cellar, May/June 2010