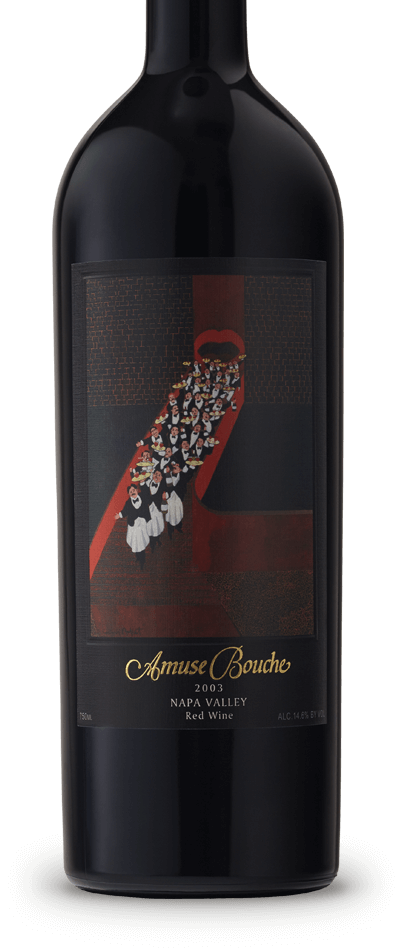 Amuse Bouche
2003 Amuse Bouche Napa Valley Red Blend
The Wine
Our second vintage of Amuse Bouche, the 2003 is a spectacular one. The warm summer and dry harvest should yield a wine of great concentration and elegance. The juice was highly concentrated with an ideal balance of structure, supple tannins and ripe flavors.
The Napa Valley Merlot grapes were harvested on September 26 at 25.2 brix; the Cabernet Franc grapes were picked on September 23 at 25.0 brix in early September. The wine was aged gracefully in a combination of new French oak. This Merlot/Cabernet Franc blend exhibits all of the 'Pomerol style' elements we had hoped for and has been touted as a one of the finest Merlots from Napa Valley.
The Artist
To complement the artistry of our small lot production, we commission original artwork to grace the label for each vintage. This vintage will feature another original artwork from artist Guy Buffet. While the '02 label depicts the many-layered joys of wine and food as an integral part of life, the '03 art is a tongue-in-cheek play on the "amusement of the mouth."
PATTERSON'S BEVERAGE JOURNAL
2003 Vintage
"Heidi Barrett's made wine for Napa Valley's best, which is what this awe-inspiring, elegant Merlot-based beauty is destined to be." - Patterson's Beverage Journal , September 2006
WINE ADVOCATE
2003 Vintage
"...this blend of 97% Merlot and 3% Cabernet Franc is a limited production (400 cases) wine.... It exhibits a deep ruby/purple color along with a big, sweet nose of roasted espresso, mocha, chocolate, black cherries, and currants. Well-textured, with superb fruit purity and intensity, full body, and a long finish." - Robert Parker Jr., Wine Advocate, December 2005
WINE SPECTATOR
2003 Vintage
"...perennial favorite Amuse Bouche; its Napa Valley bottling is a Pomerol-inspired Merlot blend from a partnership that includes Heidi Peterson Barrett. It's wonderfully aromatic, rich and polished." - James Laube, Wine Spectator, October 2005
"Dark and vibrant color; bright, smooth and luscious with fresh, pure plum and blueberry fruit plus soft new oak; rich and very long with unflagging flavors; notes of cassis, cinnamon, licorice, vanilla and spice; concentrated and powerful, yet extremely elegant. A richer and more complex wine than the blockbuster 2002 vintage. This is what merlot CAN be." - Andy Blue, Bon Appetit, June 2005
WINE SPECTATOR
2003 Vintage
"Dark in color, with wonderful perfumed cassis, currant and black cherry fruit that's openly aromatic. The flavors are rich and polished on the palate, with a plush, dense texture and long, intircate finish that picks up nuances of cedary oak and fresh earth. Merlot and Cabernet Franc. Drink now through 2012." - Wine Spectator, July 2005