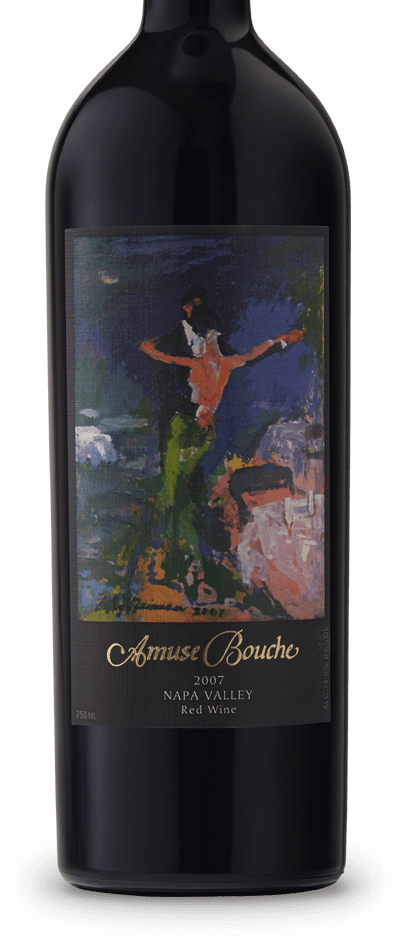 Amuse Bouche
2007 Amuse Bouche Napa Valley Red Blend
The Wine
The 2007 harvest was characterized by its split personality. After a moderate summer, a burst of heat in early September led a number of wineries to pick earlier than usual. However, the harvest stalled due to a dramatic cooling off period in mid September. When it resumed later in the month, our vineyards clearly had benefited from the extended hang time. The later harvest allowed an optimal ripening period for our Merlot and Cabernet Franc blocks, which we picked just before heavy rainfall struck the Napa Valley in early October.
Twelve months later, our esteemed winemaker, Heidi Barrett, describes the '07 (93% Merlot/7% Cabernet Franc) as "almost purple black in color with aromas of crushed blackberries and ripe plum, mineral, wild mushrooms, vanilla and coffee bean. The tannins are muscular but balanced, with consistent velvety textures, and seductively layered to mature 10-15 years down the road." The Amuse Bouche 2007 was bottled in April 2009 after resting in a combination of Tarransaud, Gamba and Radoux cooperage.
The Artist: LeRoy Neiman
The Amuse Bouche 2007 original art was created by legendary artist LeRoy Neiman and is entitled, "The Last Dance." Born in 1921, Neiman has become an American icon for 20th century modern art. He is an artist who responds to his time and has always felt that being a part of every generation was paramount to the success of his work. "The Last Dance," commissioned by Amuse Bouche Winery, depicts two roof top diners enjoying the moment while their champagne flutes rest table side. This oil on board, Neiman explains, "uses colors to emphasize the scent, spirit and feeling of the scene I have experienced."
ROBERT PARKER
2007 Vintage
"Medium to deep garnet colored, the 2007 Proprietary Red Blend Amuse Bouche, a blend of 94% Merlot and 6% Cabernet Franc, features a very earthy/savory nose of smoked meats, yeast extract, violets and chocolate box with a core of preserved plums, blueberry compote and cigar box. Full-bodied, rich and spicy with wonderful freshness, it sports beautifully plush tannins in the mouth, paving the very long and wonderfully decadent finish." - Wine Advocate, Issue #238, August 2018
STEPHEN TANZER
2007 Vintage
"Bright red-ruby. High-pitched, slightly candied aromas of crushed red berries and plum lifted by a whiff of rose petal. A juicy, sweet, slightly high-toned fruit bomb, with good energy to its creamy, exotic red berry flavors. Boasts lovely clarity and finishing perfume." - Stephen Tanzer's International Wine Cellar, May/June 2010
WINE SPECTATOR
2007 Vintage
"Supple and beautifully layered, with black cherry and toasty vanilla aromas and currant, spice and roasted sage flavors that start delicately and then build to a rich, ripely tannic finish. Merlot and Cabernet Franc. Drink now through 2015. 500 cases made." - Wine Spectator
TOP 100 PERFECT POURS OF THE WORLD
"Pomerol-style wine from Napa Valley produced by legendary winemaker Heidi Barrett, this Merlot-based red is darkly vibrant, exuding aromas of blackberry and black plum. On the palate, the wine expresses earthy, forest-floor flavors or wild mushroom alongside juicy berry fruit, roasted coffee and bittersweet chocolate." - October 2009