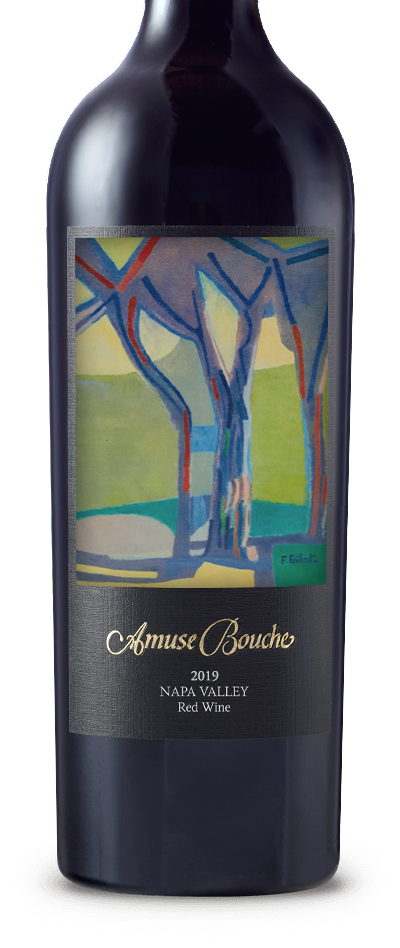 Amuse Bouche
2019 Amuse Bouche Napa Valley Red Blend
It is with great honor and excitement that we offer you the 2019 vintage of Amuse Bouche, featuring artwork by one the most prominent artists of our time. To showcase the brilliance of Françoise Gilot, we have produced custom, one-of-a kind wood boxes in lieu of lithographs this vintage. Her art has been carefully painted on the box lids which, once removed, can be either vertically displayed on the wine box or on your walls. These boxes are showstoppers.
Amuse Bouche 2019 crafted in the Pomerol-style, is a blend of 92% Merlot and 8% Cabernet Franc from our vineyards in the east Rutherford Hills of Napa Valley. 2019 was as close to an ideal growing season as we have had in recent years. We expect this vintage to rank among the best from the Amuse Bouche estate.
To reserve your allocation of Amuse Bouche 2019, please complete the order form below, email Eileen@AmuseBoucheWine.com, or phone-in at 707-251-9300. Your wine will ship fall 2021.
We produced a limited number of 1.5-liter magnums, hand-signed and numbered by Heidi. Absent from the order forms are our 5.0-liter hand-etched, painted and signed jeroboams. We produce fewer than 10 of these large formats each year. If interested, please contact Eileen directly at Eileen@AmuseBoucheWine.com.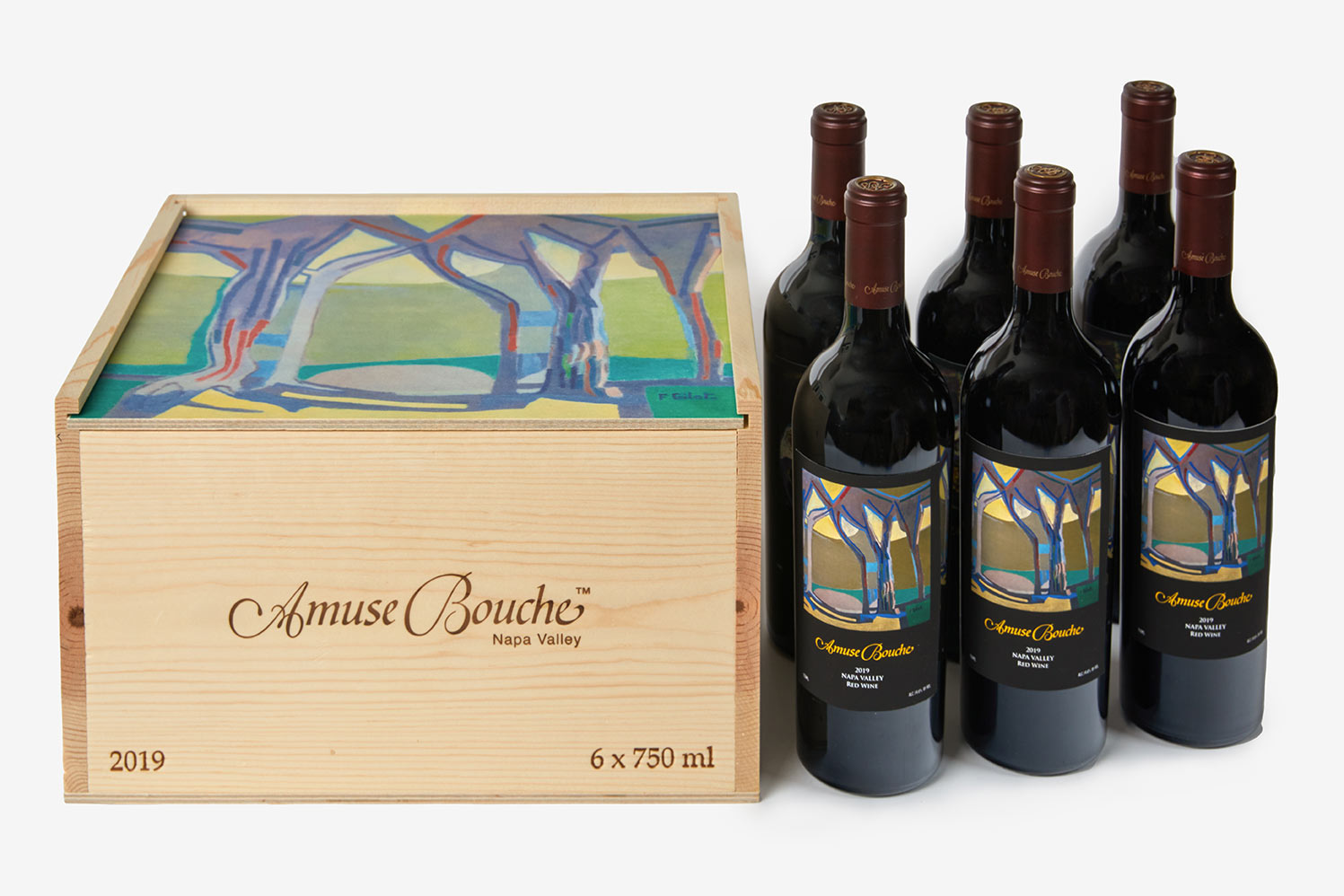 The Artist: Françoise Gilot
I had the pleasure of working with Françoise Gilot (98) as she created "Cathedral of Trees" to adorn the Amuse Bouche 2019 label. When we met in New York this past February she was dynamic, witty...and still going strong! Françoise, born in 1921, is a decorated French painter perhaps best known for her long, stormy relationship with Pablo Picasso, with whom she had two children, Claude and Paloma.
Gilot was 21 years old and an accomplished artist, notably in watercolors and ceramics, when she met Picasso, then 61, in 1943. When the decadelong relationship came to an end, Pablo did his best to derail her career by discouraging galleries from purchasing her work. He also refused to see their children ever again.
In 1969, Gilot married polio vaccine pioneer Jonas Salk and she currently divides her time between her New York studio and Paris. Her book, Life with Picasso, has sold millions of copies.
Gilot is highly regarded as an international artist of the second half of the twentieth century. She has exhibited her work for more than 50 years in the major art centers of Europe, Asia, and North America. She was awarded the French Order of Arts and Letters with rank of Commander in 1988, the French Legion of Honor with rank of Chevalier in 1990, and the rank of Officer in the National Order of Merit by the president of France in 1996.
Antonio Galloni
2019 Vintage
"The 2019 Amuse Bouche, a Right Bank-inspired Merlot/Cabernet Franc blend is superb. Expansive, sweet aromatics are immediately seductive. Silky tannins wrap around a core of plum fruit, sweet tobacco, chocolate, spice and leather. This wonderfully expressive, elegant Napa Valley red hits all the right notes in a mid-weight, nuanced style that is all class."
- Antonio Galloni, January 2022
James Suckling
2019 Vintage
"This is a beautiful, juicy, merlot-based red with melted-chocolate and berry aromas and flavors. It's full and creamy with lovely balance and attractive character, showing freshness and layers of fruit. Violets and berries at the end. Merlot and cabernet franc. Gorgeous. Drink or hold."
- James Suckling, November 2021