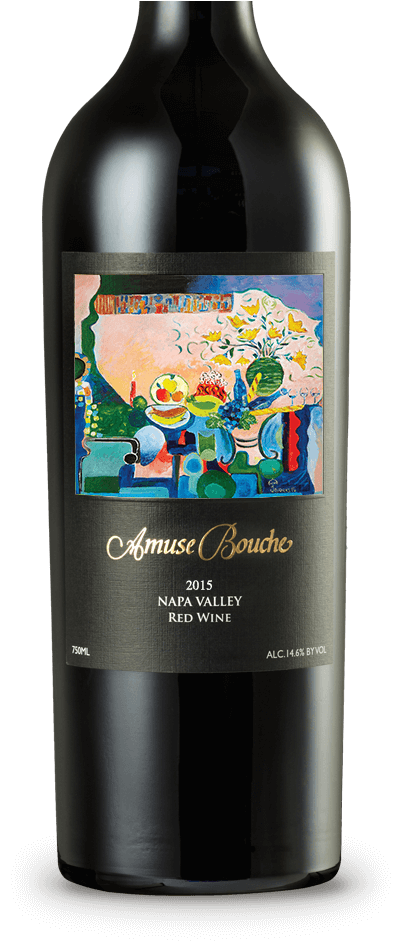 Amuse Bouche
2015 Amuse Bouche Napa Valley Red Blend
In our world, there is no trinity quite so holy as that of wine, food and art. These pleasures – three of life's greatest – come together harmoniously as we proudly offer your six-bottle allocation of Amuse Bouche 2015. Made in the Pomerol style, this year's blend is 88% Merlot and 12% Cabernet Franc from our vineyard on Rutherford's eastern hillside.
The Wine
Napa Valley's 2015 vintage was marked by grape yields historically smaller in quantity but exceptional in quality. Circumstances allowed Winemaker Heidi Barrett to create a masterpiece in a bottle – and not just any bottle. Our Amuse Bouche 2015 label is graced with astonishing artwork entitled Le Pique-Nique by Jacques Pépin. A longtime friend of ours, Jacques is a world renowned chef whose impactful work in the culinary world spans more than six decades. His most recent awards include the inaugural Julia Child Award and the American Public Television's Lifetime Achievement Award.
The Artist: Jacques Pépin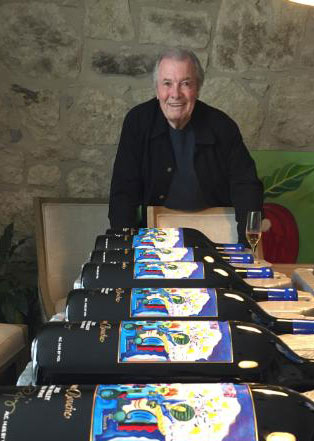 Our two personal favorites of the 28 cookbooks Jacques has penned are La Méthode and La Technique. These two cookbooks are among the holy grail of culinary education in the 1970s. This is when Americans finally began to step away from meatloaf, macaroni & cheese and shake 'n bake chicken, instead venturing towards cuisine that Europeans have known for decades. Jacques Pépin and Julia Child redefined the American food scene and we never looked back.
Jacques was born in France in 1935 and from a young age, made the kitchen his home. He was well-established in Europe by the time he made his way to the United States in 1959. A charismatic voice and an iconic figure, his mastery of the kitchen has transcended time and connected the culinary cultures of continents divided by an ocean.
Luckily for us, he also happens to be graceful with a paintbrush. Our striking 2015 label by Jacques exemplifies the sensuous, aesthetic nature of what we believe to be life's pinnacle experiences – the kind where food, wine and breathtaking art abound!
Decanter Magazine
2015 Vintage
"Youthful and charismatic winemaker, Heidi Barrett combines her 40 years of winemaking with entrepreneur John Schwartz to deliver Amuse Bouche's Napa Valley Red Blend. This Pomerol-inspired blend is crafted from Rutherford's hillside vineyards and delivers a story of the source and Heidi's winemaking skills. The 2015 delivers all the goods, with lifted aromatics of dried violets, bay leaf and thyme, and classic Merlot notes of cranberry with a sassy appeal. It has an acid-driven finish that's full of stamina. Drinking Window 2019 - 2036" - Eduardo Dingler, Decanter, January 2019
Download Review
The Wine Advocate
2015 Vintage
"Composed of 88% Merlot and 12% Cabernet Franc, the 2015 Proprietary Red Blend Amuse Bouche is medium to deep garnet-purple in color with gorgeous scents of plum preserves, wild blueberries and blackberry pie with hints of cloves, star anise, Sichuan pepper, lilacs and rose hip tea. The palate is full-bodied, rich and captivating with an alluring frame of velvety tannins and wonderful freshness, finishing very long and very spicy." - Robert Parker, The Wine Advocate, October 2018
Antonio Galloni
2015 Vintage
"The 2015 Amuse Bouche is supple, juicy and inviting, with plenty of dark cherry and plum fruit pushed forward. Hints of tobacco, leather, chocolate and sweet spice add nuance to the dark fruit. In 2015, the Cabernet Franc is pushed up a bit higher than normal. Even so, the 2015 is delicate, restrained and very pretty." - January 2018