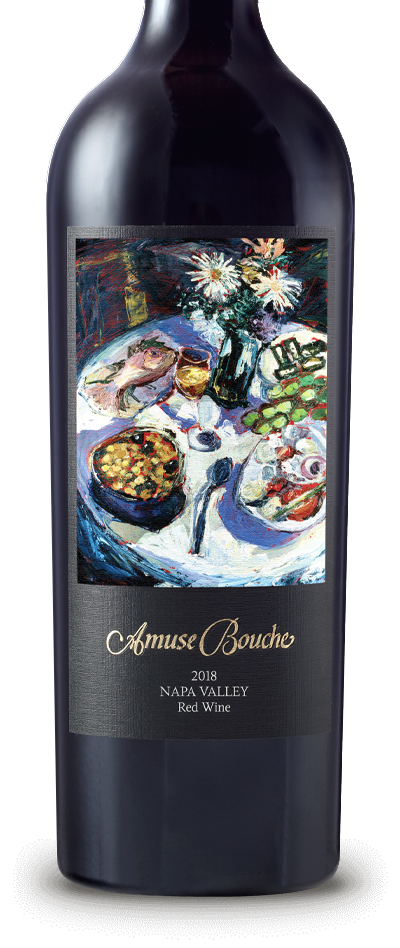 Amuse Bouche
2018 Amuse Bouche Napa Valley Red Blend
Crafted in the Pomerol style, Amuse Bouche 2018 is a blend of 92% Merlot and 8% Cabernet Franc from our vineyards in the east Rutherford hills of Napa Valley. We picked our fruit in three stages on 9/17, 9/29 and 10/18. The 2018 growing season was ideal — long and mild, with very few viticultural obstacles. Amuse Bouche 2018 exudes flavors of bright black plums, kirsch, red licorice, mocha beans, melted dark chocolate, fresh mushrooms, violets and clove spice. We produced 725 cases.
The Artist: James Michalopolous
We commissioned renowned New Orleans artist James Michalopolous to create our 2018 label art, a culinary-inspired piece entitled "Fish Swish". Born in 1951 in Pennsylvania, James was drawn to New Orleans in 1981 in search of hippie bohemian culture in America. He began sketching artists and musicians, houses and street corners. Fascinated with the duality of beauty and decay, he adopted the architecture of the city as his muse. He captured the spirit and the essence of his subject in layer upon layer of thick impasto paint. His portraits of shotgun houses and creole cottages brimmed with color and energy. This body of work, infused with Michalopolous' singular style, came to represent for the world the gritty, vibrant, alluring image of the Big Easy; and it established him as the most influential living artist in the region.
Michalopolous' current paintings grapple with the notion of elemental biological life and the evidence of cohabitation with nature. His work has been shown extensively in the US and abroad and is featured in numerous public and corporat collections, including Universal Studios, the Ogden Museum of Southern Art, the Dallas Museum of Art, and the New Orleans Museum of Art. His work also enlivens the homes of Bruce Willis, Jackson Browne, John Goodman, Linda Hamilton, Bonnie Raitt, Sharon Stone, Aaron Neville, Emmylou Harris and many others.
James splits his time between New Orleans and France. In fact, this is the scene, in James' words, that inspired "Fish Swish": "It's early evening, mid-September in Burgundy. This is the terrace spectacle: simple food and fine wine. I find myself lost in time — no, in the timeless. It is my purgatory." The lithographs are gorgeous, expertly produced on Rives paper by our Paris atelier using 19th Century presses. Each one is hand-signed and numbered by James
The Wine Advocate
2018 Vintage
"The 2018 Proprietary Red Blend Amuse Bouche is composed of 92% Merlot and 8% Cabernet Franc. Deep garnet-purple in color, it bursts from the glass with bombastic scents of ripe black plums, boysenberries and Black Forest cake with hints of Morello cherries, star anise, cardamom and red roses, plus a touch of garrigue. The medium to full-bodied palate is an exercise in poise, delivering loads of vibrant black fruit and exotic spice flavors with bold freshness plus exquisitely ripe, rounded tannins, finishing with fantastic length and perfume. Absolutely stunning Merlot!"
- The Wine Advocate/Robert Parker, November 2020