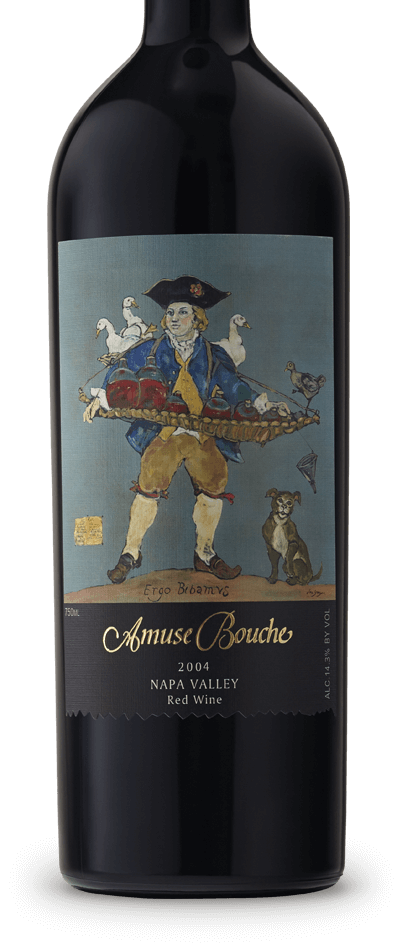 Amuse Bouche
2004 Amuse Bouche Napa Valley Red Blend
Our 2004 Amuse Bouche, a Pomerol-style Merlot/Cabernet Franc blend is made from our vineyards in the Napa Valley. Heidi feels that the 2004 (our third vintage of Amuse Bouche Napa Valley Merlot Wine) is another special wine. This is a big, ripe Merlot characterized by elegance and structure.
The Wine
Our grapes, weighing in at just under seven tons, were harvested on September 12 (two weeks earlier than our '03 harvest) at 25.0 brix. The 2004 growing season got off to an early start and will be remembered for an extended heat wave in September during prime ripening-time and an overall lighter crop. We were fortunate to pick our fruit at the onset of the untimely heat, avoiding an over-ripe character that plagued many vineyards where the fruit had a longer hang time. Our Pomerol cuvee blend is multi-faceted, showing ripe, balanced, concentrated, lush and solidly woven generous fruit with seamless and supple flavors of espresso, licorice, caramel, plums and blueberries.
The Artist
We are pleased to announce that the work of a new artist will enliven our 2004 bottles - and will feature a different acclaimed artist with each successive vintage. Renowned Napa Valley artist Ira Yeager has been commissioned to create the '04 artwork.
WINE REVIEW ONLINE
2004 Vintage
"Blended from Merlot and Cabernet Franc, this wine is styled along the lines of a Right Bank Bordeaux, and the finished product offers a very plausible likeness.  Rich and concentrated but not heavy, it is also deeply flavored without being overt or inelegant.  Oak notes are prominent but pleasing, lending a smokiness and spiciness that works very well with the fruit notes, which recall black cherries and dark berries along with a subtle red fruit backnote.  Remarkably complex and integrated for such a young wine, this is a very impressive bottling." - Michael Franz, Wine Review Online, May 8, 2007
WINE ENTHUSIAST
2004 Vintage
"This is one of those superripe, superopulent reds that makes tasters stop and pause. With 94 percent Merlot and the remainder Cab Franc, it's so ripe in cassis, cherry and chocolate truffle flavors, so smooth in tannins, so voluptuous and balanced, it can only have been made in Napa Valley, and by a winemaker of the stature of Heidi Peterson Barrett. Drink now-through 2010, at least." - Wine Enthusiast. March 2007
STEPHEN TANZER
2004 Vintage
"Saturated ruby-red.High-toned, slightly medicinal aromas of blackberry, black raspberry and bitter chocolate. Rich and densely packed, with distinctly backward flavors of black fruits, minerals, graphite, licorice and dark chocolate, all lifted by intriguing peppery and floral nuances. I like this wine's restrained sweetness and focus, not to mention its suave texture. Finishes with sweet tannins and excellent length. This Saint-Emilion blend has been consistently fresh and interesting in recent years." - Stephen Tanzer's International Wine Cellar, January 2007
ROBERT PARKER
2004 Vintage
"This blend of 98% Merlot and 2% Cabernet Franc from the eastern hills of St. Helena exhibits a dark plum/purple color as well as a big, rich perfume of toffee, mocha, chocolate, espresso roast, and berry fruit. Medium-bodied, pure, and elegant, with an attractive, savory finish." - Wine Advocate, December 2006
ROBERT PARKER
2004 Vintage
Top 100 Wines of the Year
"...it's so supple and finely textured that it will find plenty of fans at its price.  Succulent plum and black cherry fruit, subtle oak and background notes of tar and coffee close with refreshing acidity." - San Francisco Chronicle, Wines of the Year, December 2006