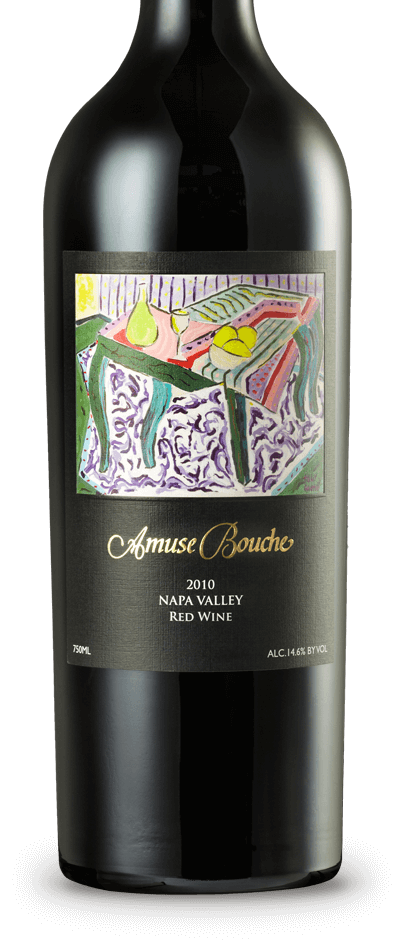 Amuse Bouche
2010 Amuse Bouche Napa Valley Red Blend
Tony Curtis once said, "I was born in and worked in a period that could be called enviable." Having met Tony before he passed away September 29, 2010 at age 85, we can vouch for the way he lived his life as an actor and as an accomplished painter. And we share his sentiment and passion about our own craft - which we are fortunate to create here in the Napa Valley. The latest result of our uncompromising commitment to making a world class wine is our 2010 Amuse Bouche.
The Wine
The 2010 Amuse Bouche (93% Merlot and 7% Cabernet Franc) was harvested on October 19, aged in a combination of Taranssaud, Radoux and Gamba cooperage, and bottled in March 2012. 575 cases were produced.
The 2010 vintage is graced by an exceptional treasure: the final art of Tony Curtis. We had the pleasure of working with Tony prior to his death to produce two wonderful pieces of art, Cocktails for Two and Oriental Fabric. Sadly, these two pieces - and the signed and numbered lithographs - turned out to be Tony's final contributions to his illustrious career. In honor of his legacy and our passion to balance art with wine, each six pack of Amuse Bouche 2010 will feature both works, 3 bottles of each label. The enclosed postcard displays both images.
The Artist: Tony Curtis
Tony Curtis was best known for his career as an actor in more than 130 films, including Houdini, The Sweet Smell of Success, The Defiant Ones, Some Like it Hot, Operation Petticoat, The Boston Strangler and Spartacus. Some Like it Hot was named by the American Film Institute as the funniest movie of the past 100 years. What is less known, is that Tony has been painting since the early 60's and drawing since childhood. His art appears in the permanent collection of New York's Museum of Modern Art. His brightly colored impressionistic paintings portray domestic still lifes, floral motifs, celebrity portraits and landscapes. www.TonyCurtis.com
ROBERT PARKER
2010 Vintage
"The 2010 Amuse Bouche (93% Merlot and 7% Cabernet Franc) is considered to be the California version of a top-class Pomerol. It possesses a deep ruby/purple color as well as a sexy, mocha and black cherry-scented bouquet with a hint of background toast. Round, juicy, supple-textured and opulent, it is hard to resist this full-bodied red's abundant quantities of fruit, glycerin and character. 92-94 points." - Wine Advocate, October 2013
ANTIONIO GALLONI
2010 Vintage
"Firm yet well-integrated tannins support the fruit in this nicely delineated, chiseled wine. Plums, dark cherries, mint and licorice all jump from the glass as the 2010 continues to open up. The combination of juiciness and structure is highly appealing. The long growing season produced a gorgeous, beautifully balanced wine. Anticipated maturity: 2012-2018." - Wine Advocate, Issue #204, December 2012
BRETT ANDERSON
2010 Vintage
"This Pomerol-style wine by Heidi Barrett, with its deeply saturated flavors of black cherry and cocoa, is as playful and lively as the original artwork that graces its label each year." - Robb Report's Holiday 2012 Host Guide