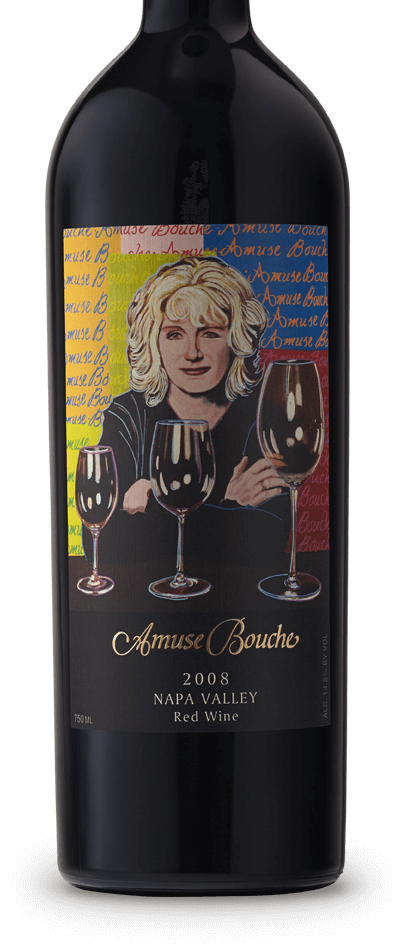 Amuse Bouche
2008 Amuse Bouche Napa Valley Red Blend
This will happen only once! Her name blesses the back label of some of Napa Valley's finest wines. Now Heidi is making her debut on the face label. With this tantalizing opener, we are pleased to offer our 2008 Amuse Bouche - embellished with a Warhol-esque representation of our esteemed winemaker.
The Wine
Once again, we have produced a Pomerol-style wine, blending 94% Merlot with 6% Cabernet Franc from our estate vineyards. The 2008 was harvested by blocks on Sept 18 and October 1. This was a very good vintage in Napa Valley, but with much lower yields; our production was just under 500 cases. Heidi describes this wine as remarkably aromatic, with strong flavors of jammy black cherries and cocoa bean and underlying hints of crushed minerals and vanilla. Simply delicious! The Amuse Bouche 2008 was aged in a combination of Taransaud, Gamba and Radoux cooperage, and bottled in April 2010.
The Artist: Steve Kaufman
The Amuse Bouche 2008 original art was created by legendary artist, Steve Kaufman. Known as the "Warhol kid" for the past two decades, Kaufman was Warhol's assistant from 1978-1981 and is commonly referred to as the "Prince of Pop Art." His artwork hangs in the White House, the Smithsonian and more than 600 galleries across the United States, Japan and Europe. The New York Times recently lauded Kaufman, stating that "his bio rivals that of Picasso at the same age." www.SteveKaufmanart.com.
WINE ADVOCATE
2008 Vintage
"Sweet, super-ripe red berries, mint and flowers all meld together in the 2008 Amuse Bouche. This is an especially high-toned, silky wine. There is considerable richness in the glass, but at the same time the alcohol is also a bit present at times. Anticipated maturity: 2012-2018." - Wine Advocate, Issue #204, December 2012
WINE ENTHUSIAST
2008 Vintage
"One sip is all it takes to understand that this is a vital, impressive and possibly profound wine. A blend of 96% Merlot and 4% Cabernet Franc, it displays the voluptuous richness of a Heidi Barrett wine, but also shows a firmness of character and a structural dryness that elevate it. Exceptionally flavorful in blackberries and cherries, it has tantalizing hints of herbs, olive tapenade and, of course, intensely fine oak. Drink now - 2016." - March 2013
"No greater artists have lent their talents to the viticultural stage than Jim Barbour and Heidi Barrett, who achieved sublime harmony[in the 2008 vintage] - an unctuous Merlot lightly laced with Cabernet Franc that conjures deep chords of black cherry and high notes of dark chocolate, Tahitian vanilla, and coffee." - November 2010